QUOTE OF THE DAY:  
"The greatest leader is not necessarily the one who does the greatest things. He is the one that gets the people to do the greatest things." – Ronald Reagan
SKID MOUNTED PARALLEL PROGRESSIVE SOFTENERS: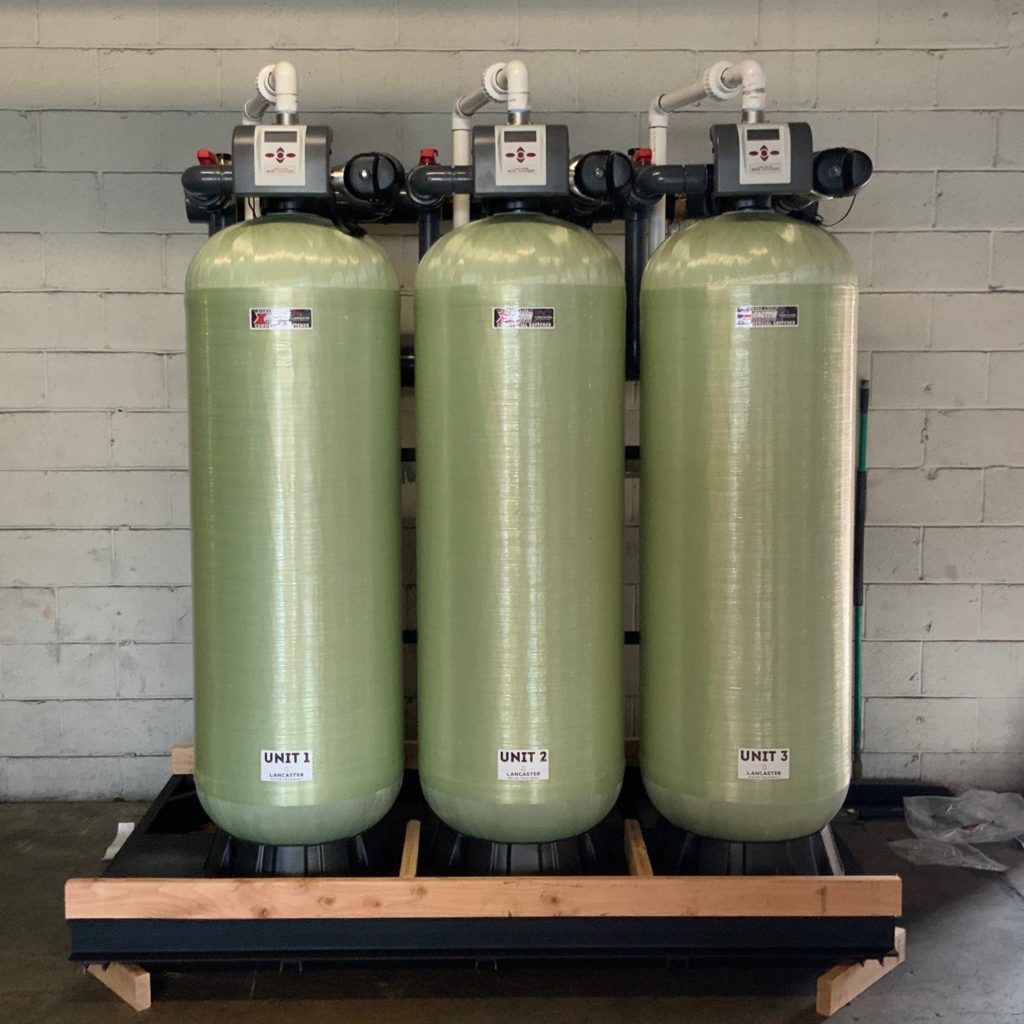 WHAT IS IT: 
It is what I call a "plug and play" system. The softener is a Lancaster Diamond series and there are 3 units in parallel.  The system uses our 2" control valves with 21" diameter mineral tanks. The flow rate is a maximum of 198 gallons per minute with a total capacity of 630,000 grains.
PROGRESSIVE FLOW:
The individual softeners are designed with a programmable set point for GPM. Once that set point is reached in unit 1 the system controller will automatically bring unit 2 online and it will do the same with unit 3 if the set demand is reached. It will also reverse itself when the demand diminishes. Talk about efficient!
PLUG & PLAY: 
We design the skid for the system. 2 units. 3 units or more. We will make a system for your application.

All units are loaded from the factory, softeners and filters alike. All your manual labor for loading the units is eliminated and you have no risk of damaging the hub and laterals.

Inlet, outlet and drain are pre-plumbed for the end connections of your choice.

Our skid mounted systems are designed for ease of installation, maximum efficiency, and premium profitability.
Call our sales department today and ask about opportunities in our "plug and play" systems.
WATER FACTS:
Drinking water can help you lose weight! This is do to the fact that water can boost your metabolic rate. In two studies, drinking half a liter (17 ounces) of water was shown to increase metabolism by 24-30% for up to 1 ½ hours.
UPCOMING EVENTS:
We are looking forward to the Aqua Technician Seminars this month, October 9th and 10th.
If you didn't get a chance to sign up, keep a look out on our Events page for our next School.
Credit where credit's due
This month's edition was brought to you by John Wenzel, President of Lancaster Water Group
For beautiful water and superior solutions, you can count on us. 
Thank you for your business.