QUOTE OF THE DAY:  
"Come and take it." ~ People of Gonzales, Texas – 1835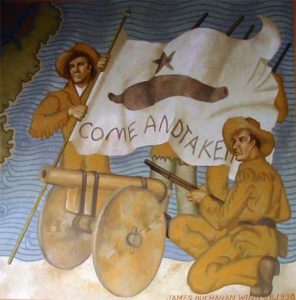 A quote from the Battle of Gonzales which was the first battle of the Texas Revolution. Mexico had given the people of Gonzales a brass cannon to defend themselves against hostile Indians. In 1835 when hostilities began between Mexico and Texas, the Mexicans wanted the cannon to be returned. When the Mexican army assembled in front of the town of Gonzales to retrieve the cannon, the defenders raised their flag which had a single black star, a brass cannon, and the words "COME AND TAKE IT".
Activated Carbon is a media that you should understand more completely and recommend more often. It has been used by the Egyptians since 3750 BC for smelting ores and since 1500 BC for absorbing odor. It is still extensively used in the water treatment industry to control a myriad of contaminates and works very well.
WHAT IS ACTIVATED CARBON?
It is a form of carbon that has been processed through thermal activation to have a huge surface area (they have nooks and crannies just like your English muffin). It is an adsorbent not an absorbent, meaning the contaminant attaches itself to the carbon. Because of the tremendous surface area, it is very effective and very efficient. It has been said that 1 teaspoon has roughly the area of a football field. Whoa!
WHAT IS IT MADE OF?
It can be made of coal, wood, coconut, and numerous other materials, although I am experienced with coal and coconut shell-based carbon. The coal-based carbon is heavy and does not need soaking time, but it is very expensive. The coconut shell carbon does need to be soaked but it contains 50 percent more micro-pores than bituminous coal, which makes it much more efficient. 
WHAT IS THE DIFFERENCE BETWEEN GRANULATED ACTIVATED CARBON (GAC) AND CARBON BLOCK?
GAC filters typically use cylinders that contain one cubic foot or more of granulated carbon. Carbon block filters are a solid block of carbon used in cartridge filters or reverse osmosis systems.
WHEN DO WE USE GAC VERSUS CARBON BLOCK?
GAC is effectively used to remove color, taste, and odor and is very effective when used in a combination unit (like our City Soft PlusTM) with water softener resin to remove hardness and the activated carbon to eliminate chlorine. By removing the chlorine, GAC protects the resin, and improves taste and odor of your customer's water supply. I guarantee your customer will thank you.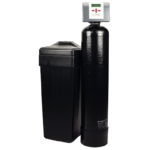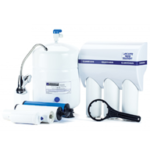 A carbon block is used in point-of-use reverse osmosis filters (like our LRO, CRO, and TFC units). The carbon block eliminates or reduces chemicals, herbicides, pesticides, and organic contaminates. It is a very important component in making your customer's water safe to drink.
Keep in mind that both our City Soft PlusTM and reverse osmosis units are designed to protect your customers and make you money. Activated carbon is a miracle for both you and your customer.
WATER FACTS:
There are around one million miles of water pipeline and aqueducts in the U.S. and Canada. That's enough to circle the globe about 40 times.
UPCOMING EVENTS:
Check out our schools for this year.
Sign up now and make your reservations early.
Credit where credit's due
This month's edition was brought to you by John Wenzel, President of Lancaster Water Group
For beautiful water and superior solutions, you can count on us. 
Thank you for your business.