QUOTE OF THE DAY:  
"Either write something worth reading or do something worth writing." ~ Benjamin Franklin
BOOSTER PUMPS:
Booster pumps can be a missed opportunity for plumbing contractors. A home owner with low water pressure can have their lack of water pressure easily corrected. A booster pump will solve the problem.
RESIDENTIAL CITY WATER PRESSURE BOOSTER SYSTEM
Boosting city water can be as simple as a single stage booster pump and a MASCONTROL®. The pump controller manages the operation of the pump automatically. The system monitors constant water pressure during operation. No pressure tank or switch is required, and no adjustment or maintenance is needed.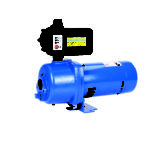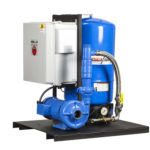 CONSTANT PRESSURE BOOSTER SYSTEMS – SIMPLEX
If you are looking for an advanced system in boosting water pressure, you may want a simplex system. Designed for larger water systems and commercial applications, it is the answer to your higher volume needs. A VARIOspeed® Controller regulates the speed of the pump to precisely match the required demand. The impact is less energy use and smaller tank size. Capacities range from 10-150 GPM.  Make certain your simplex system is factory assembled, wired, and tested for a simple startup.
CONSTANT PRESSURE SYSTEMS – DUPLEX
Duplex systems are typically designed for applications requiring capacities up to 300 GPM such as office and apartment buildings.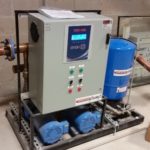 Lead/Lag Operation: This type of operation is based on the fact that water requirements vary depending on demand. While the lead pump is operating, the system will sequentially start and stop the lag pump based on the variation of system pressure. The lead pump can handle the low flow and the lag pump will be brought on line when there is a need for more flow.
Lead Pump Alternation: This operation is usually time based.  When the operating time of the lead pump reaches the alternation time, the system automatically selects the next pump in sequence to be the lead pump. This system makes both pumps operate for equal periods of time, which will prevent the overuse of any one pump.
WATER FACTS:
A point of use water system, such as Reverse Osmosis, costs only pennies per gallon of purified water. This allows customers to refill water bottles and keeps plastic water bottles out of landfills.
UPCOMING EVENTS:
We will be closed Good Friday, April 19th.
Consider Registering for our next school May 22-23rd.
Credit where credit's due
This month's edition was brought to you by John Wenzel, President of Lancaster Water Group
For beautiful water and superior solutions, you can count on us. 
Thank you for your business.